Camping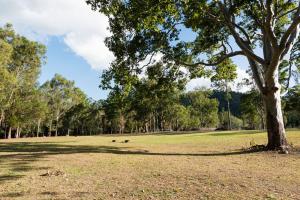 Uncrowded camping is one of the unique features of Borumba Deer Park.
With approx 15 acres of camping grounds available – both non-powered and powered sites –there is plenty of room to spread out. If you have kids, they can play without interfering with neighbouring campers, so you can truly relax.
If you don't need power there are three beautiful camping areas to choose from: Sherwood Forest, Creek Street, Down by the Creek. The Meadows & The Hill is also offered for larger groups.
Powered sites are also available at Sherwood Forest, Sports Ground, Front Row and Back Fence.
SHERWOOD FOREST
This area has its own amenities with showers and toilets, barbecue facilities and a children's playground (most suitable for six years and under). It is a very large area and has many attractive sites (both powered and unpowered) with no specific boundaries. It's where you can set up your camp to suit yourself. There is a mixture of both powered and unpowered sites.

There are fireplaces at most sites and pets on a lead are welcome to camp with you. The dog off-leash area is a short walk to the topside of Sherwood Forest.
CREEK STREET
Here you are just a short walk down to the creek and amenities, with many nicely shaded large unpowered camp sites. There are fireplaces at most sites and pets on a lead are welcome to camp with you.
DOWN BY THE CREEK
Enjoy camping along the banks of Yabba Creek, only metres away from easy access for swimming, kayaking, fishing and other water activities. Sites are large with firepits and it's just a short walk up the stairs to the stockyard amenities and laundromat. Pets are welcome to visit on the lower level, however not allowed to camp in this area.
SPORTS GROUND
The Sports Ground offers powered sites facing the deer park, where the deer come in to feed of a morning and afternoon. Each campsite is also large enough to park a boat or jet ski opposite your camp.
FRONT ROW AND BACK FENCE
These sites are all powered including water points with a dedicated concrete slab on each site to park you caravan or camper next to.