ABOUT
About Borumba Deer Park
Borumba Deer Park is a family-owned and operated campground with additional caravan sites and cabin accommodation, located about 10 minutes west of Imbil and just a five-minute drive from Lake Borumba, the jewel of the Mary Valley inland from the Sunshine Coast.
The park is set in the tranquillity of a deer farm, where hand-feeding experiences with deer and various other farm animals is a treat for the kids, along the banks of Yabba Creek.
The Borumba Deer Park recently changed ownership and the entire park underwent extensive renovations over a 12-week period mid-2020. If you haven't stayed at the park for a while or have never been, be sure to come and check it out.
SITES AND ACCOMMODATION
Borumba Deer Park offers a large variety of different camping experiences in the beautiful Mary Valley including:
Creekside camping along the banks of Yabba Creek
Elevated camping at sites overlooking Yabba Creek
Camping next to a deer paddock, where you can enjoy the deer grazing
In addition to non-powered camping sites and powered caravan sites (grass or slab), accommodation options available also include onsite cabins.
There are two amenity blocks at either end of the park, a large indoor camp kitchen, laundromat and various outdoor barbecue camp kitchens throughout the park.
There's also an undercover entertainment and eating area in the stockyard, where discos and children's movie nights are held.
The new nature-inspired playground, built as part of the park's 2020 renovations, will keep the kids busy for hours along with the nine-hole mini golf course.
FACILITIES
Borumba Deer Park has all the facilities you need for a relaxed and carefree camping holiday. This includes a well-stocked kiosk, laundromat, amenity blocks, camp kitchen and barbecue areas, campfires and children's playgrounds.
KIOSK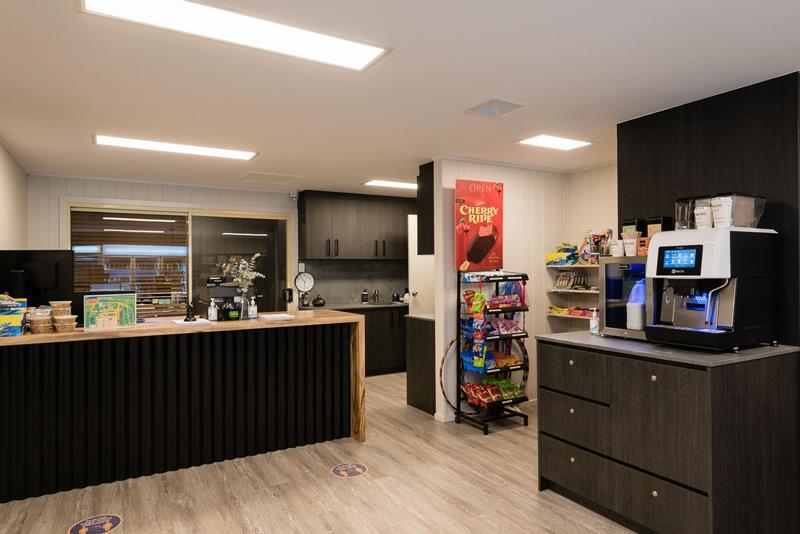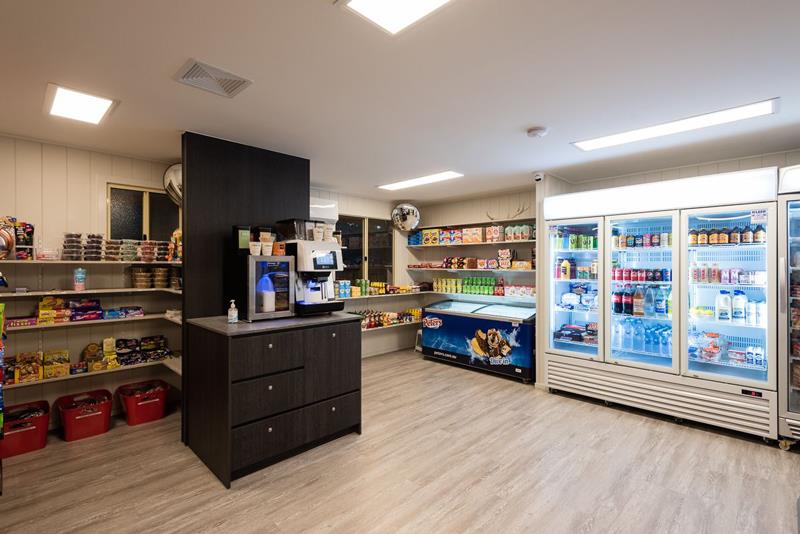 The park kiosk is open daily between 8am and 4pm (5pm on Fridays and Saturdays).
It sells bread, milk and other grocery items as well as frozen meals, snacks, drinks, ice and firewood.
Gas bottle refills and various basic camping items are also available.
Inflatable Tubes, Floating Mats & Lifejackets are available for hire.
You can even enjoy a fresh hot coffee, hot chocolate or an ice cold slushie from the kiosk on the new outside deck.
LAUNDROMAT
The laundromat is open 24/7 and contains four large coin-operated washing machines and four large coin-operated dryers.
AMENITY BLOCKS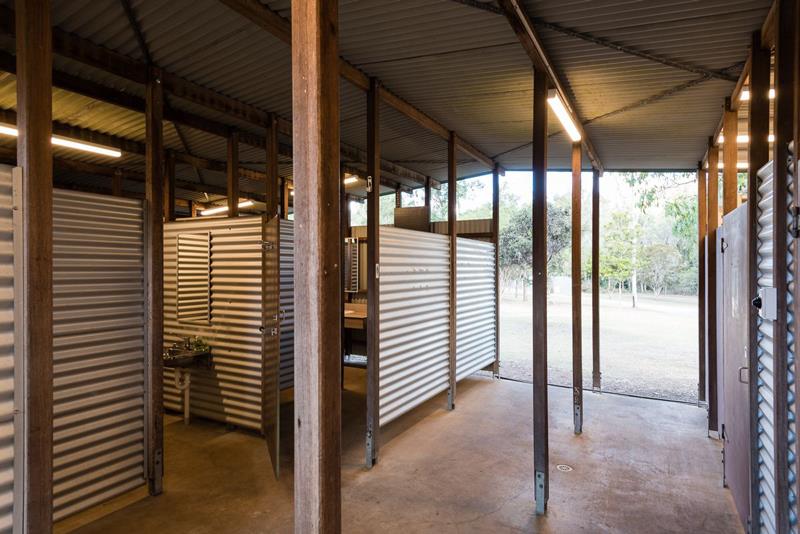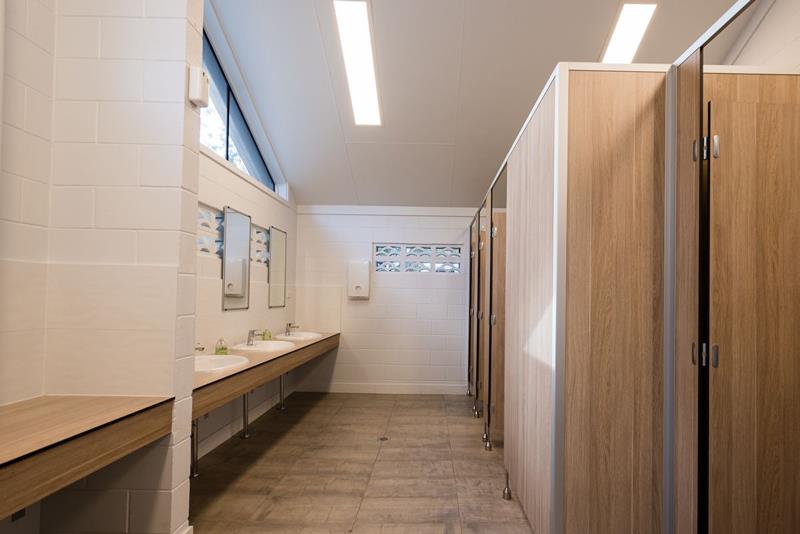 Both Sherwood Forest and The Stockyard amenity blocks are disability-friendly and family-friendly, with flushing toilets and hot showers.
CARAVAN DUMP POINT
For the convenience of caravanners that have their own onboard toilet, we have an onsite caravan dump point including a rinse bay located in the shed next to the Stockyard Amenities.
CAMP KITCHEN AND BARBECUE AREAS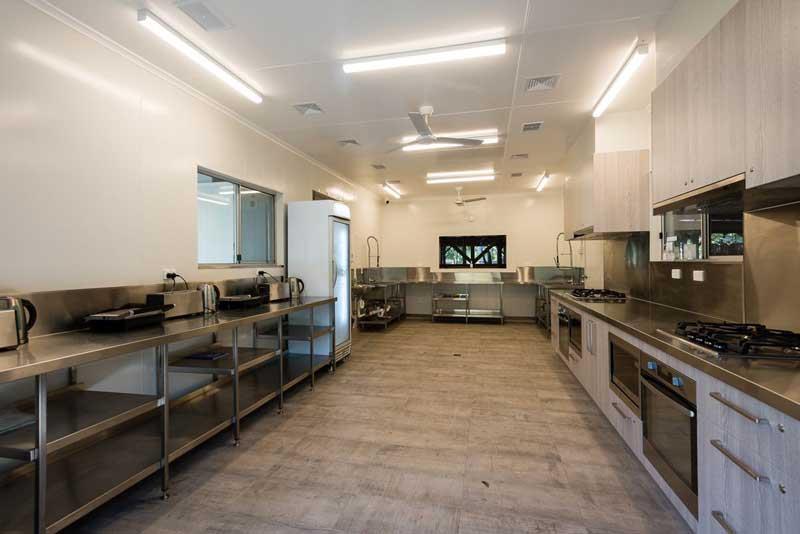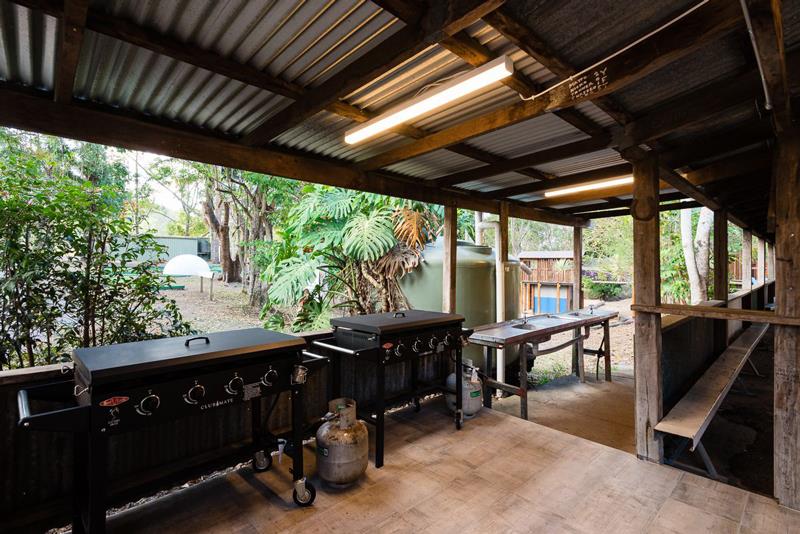 The Stockyard area contains a large camp kitchen, free-to-use gas barbecues and a large undercover area with tables and seating.
There are also smaller barbecue and seating areas in convenient locations throughout the park.
CAMP FIRES
There are fireplaces at most camping sites and portable fireplaces available on request. Some fireplaces have log seating and others have space for families and friends. Long-burning mixed hardwood is available by the bag at the kiosk.
CHILDREN'S PLAYGROUNDS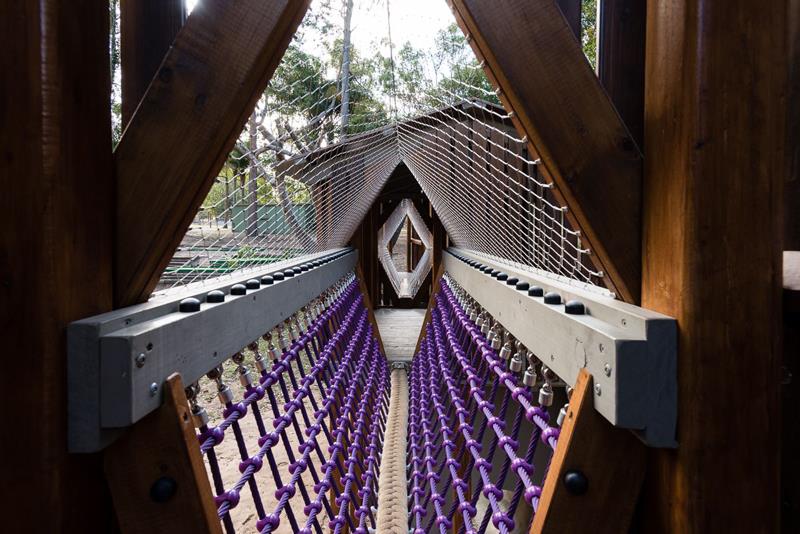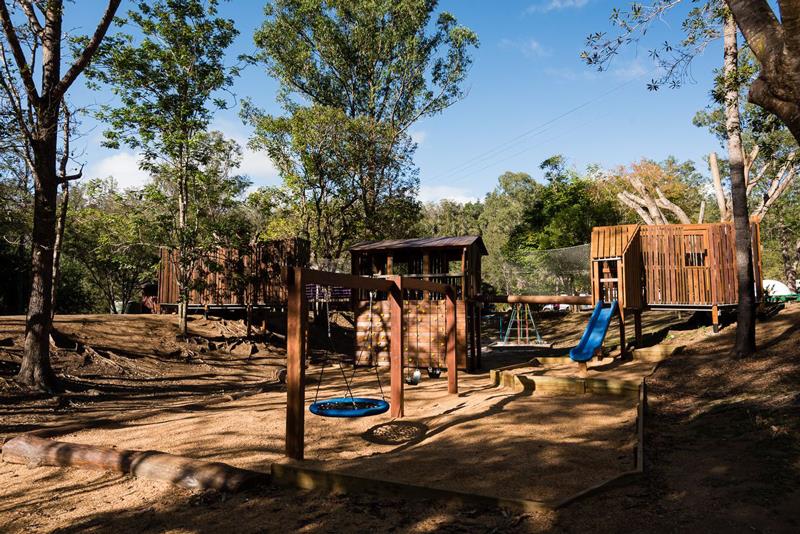 You will find swings, slippery slides, climbers and a sand pit in the playground areas at Sherwood Forest and The Stockyards. A brand new nature-inspired timber playground at The Stockyards also offers rock climbing, rope climbing, bridge walks and much more to keep the kids busy for hours.